(originally posted April 16, 2011)
Last week, I highlighted the benefits of attracting insects to your yard. Creatures regarded by humans as pests are magnets for insectivores, including birds, ladybugs, amphibians, and chipmunks. This week, I'd like to feature how to attract appetizing arthropods.
Increasing the diversity of insects in your backyard all begins with the plants you feature. While pansies, petunias, geraniums, and other colorful annuals are favorites of gardeners, it's the plants native to your area that are the favorites of insects. Our local insects have evolved in the presence of native plants and have come to depend on them as a source of food, whether it be in the form of leaves, nectar, or pollen. For example, while we may think of feeding squirrels when it comes to oak trees, the 80 species of oaks in North America support a whopping 534 species of butterflies and moths alone. Add this to the number of bird, mammal, reptile, and amphibian species that in turn eat caterpillars, and one oak tree supports a staggering array of wildlife.
If you're worried that you will have to sacrifice the beauty of your landscaping in order to appease wildlife, fear not. Purple coneflowers, radiant red bee balms, sunny goldenrods, and blue irises are among a long list of colorful native plants that can be grown throughout the United States. More regional plants offer even more landscaping opportunities. There's nothing quite like a tall waving patch of big bluestem in North Dakota...
the spiky inflorescences of goatsbeard in Pennsylvania...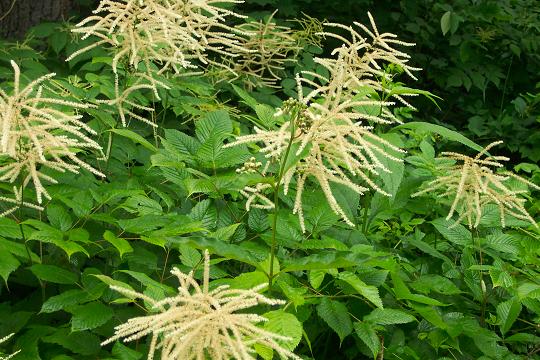 or what I call the "Dr. Seuss flower," the maypop of Florida.
A trip to your local bookstore, online research (and your friendly Nature Geek!) will help you determine what plants are native to your area.
In addition to supporting insects and their associated wildlife, going native will benefit you as well. Once these plants have become established in your yard (which may take a year or so) they will require no watering, fertilizing, or even pesticides (remember, your yard will attract insect eaters!), saving you both time and money. I planted my native garden last year and for my patience through a difficult drought, I have been rewarded this spring with native perennials that have rebounded and doubled their size. So as you are preparing your garden beds this spring, perhaps add a native or two here and there just for starters. Then sit back, relax, and enjoy your new backyard habitat.